The mangal
Art of the mangal - "Israeli Style"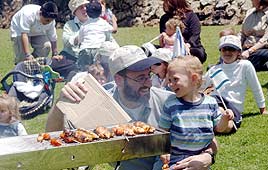 Anyone who has ever encountered even a single Israeli, is sure to have noticed that they are obsessed with barbecues. For me personally it really isn't a big deal whether I grill the meat, fry it or put it into the oven. Either way it's food. If it's tasty it's tasty.. ('Oy vey' Maria!). But I am amused by this custom, and I found this article in today's Ynet absolutely hilarious:
A group of 50 new immigrant families from U.S. invited to Israeli-style barbecue; steakhouse chef reveals local secrets
By Shelly Paz and Natasha Mozgova
TEL AVIV - You are not Israeli until you've had your first mangal session: A group of 50 new immigrant families was invited to attend an Israeli-style barbecue in Jerusalem Monday, where the newcomers received a crash course in Israeli-style grilling.
Now you see, my idea of something one needs a "crash course in" would be.. a language, basic survival of some sort, etc. Not grilling meat!
Mangal is the Hebrew word for barbecue, and arguably one of the most important words in the Hebrew language, according to the average Israeli at least. The almost-sacred ritual is also commonly referred to as "al ha'esh," literally "on the fire."
Israel's Independence Day is usually celebrated by overeating and not only with sing-along celebrations and other festivities, the chef told his audience.
A Jewish/Israeli holiday celebrated by overeating? C'mon ;)
Vegetarians can grill fresh vegetables instead of the meat, the chef said - on a skewer, of course.
Okay so then everybody can participate. Even vegetarians, like Orly (who has a new picture gallery now by the way).


Ethiopian immigrant learning the esteemed custom of the 'mangal'
Posted by Maria at May 12, 2005 11:04 AM | TrackBacks