A dark day in Netanya
A bloody homicide attack in Netanya has killed 3 and injured 90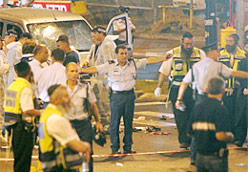 Three killed in Netanya suicide attack; Islamic Jihad claims responsibility

A suicide bomber blew himself up at the Hasharon mall, at the entrance to the coastal town of Netanya, on Tuesday evening killing three women and wounding 24 others. Islamic Jihad claimed responsibility for the bombing.
Six people were seriously wounded in the attack, and 18 others sustained light injuries. The wounded were taken to Laniado Hospital in Netanya, Meir Hospital in Kfar Sava and Hillel Yaffe Medical Center in Hadera.
-----------
This unspeakable tragedy makes me sad, and what makes me sick to my stomach is to see respected news sources such as BBC News belittling the incident:
A suicide bomber has killed two people and himself and injured about 30 at the entrance to a shopping centre in the Israeli coastal town of Netanya.
The same was written in Iceland's biggest newspaper. How horrifying that such ways should be uses to encourage anti-Israel thoughts.
As always, my thoughts and prayers go out to victims and their families.

Posted by Maria at July 12, 2005 11:11 PM | TrackBacks