Another Jewish David!
I am somehow not willing to write post after post describing the accurate details of all the dramatic events taking place during the preparations of the disengagement. At least not right now. I'd rather write about something more positive. Here's something that made me laugh like an idiot:
Apparently, David Beckham just found out he's Jewish!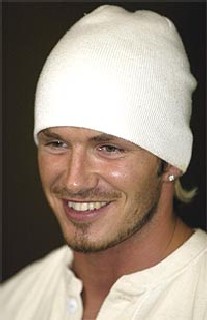 See, on this picture he's got a hat and a beard! :p
The news didn't really come as much of a surprise to me for 2 reasons:
The first was that I already knew that David was raised by Jewish parents (he was adopted). Jewish parents often prefer a Jewish child. Secondly, he's supposed to be the world's best football player. He is thus, in a way, bound to be Jewish. Why? Well, Jews seem to have at least one guy who is best at everything, no matter how useless and ridiculous the subject. Jews even have the "best" pornstar.
By this I am not saying that Jews are in some way "superior" to anybody else. But I am mentioning the effects of what my shrink (and yes, I see a shrink, and he's a genius) once talked about. He said how the greatest inventions, achievements and ideas have very often come from nations/people/ethnic groups that are going through great difficulties. Hardship forces the mind & body to go further. An easy life, does not.
Oh so, maybe that's why David Beckham, Elvis Presley and Ron Jeremy are Jewish.. Hah oh I crack myself up sometimes :-)
And yes I'm sure Orly will criticise everything I just wrote. Go ahead Orly, give it your best shot!
Posted by Maria at August 4, 2005 02:26 PM | TrackBacks