Anti-semitism in France, and my trip to Paris
To think I was just in Paris last month, along my boyfriend Shlomi, a Jew. We be both absolutely loved the place. The city was beautiful, even most of the slums had their own "French charm". We loved the food (except for the tremendous emphasis the French put on pork and seafood). We were both prepared to have to deal with rude people with prejudice views and attitude problems, but instead we did not encounter anything but helpful, friendly people. Infact, it almost felt like a slap in the face to shop at the duty free in Iceland when we were coming back. The empty stares the cashier gave, and the dry tone of voice in which he spoke to me, gave me an authentic feeling of being back in Iceland!
While we were in France, we did not notice any any anti-semitic behavior. People responded positively to Shlomi explaining that he is an Israeli. We visited the "Jewish Museum" in Paris. It was certainly not as packed as the Louvre, but it had several visitors, nevertheless, and some interesting material on display, with information in many languages, including Hebrew.
But I suppose that our touring of Paris did not really tell the whole story. The young man who sat next to us on the plane back to Iceland (a French exchange student in Iceland), said that he is ashamed of the fact that racism is growing in France, but it is a fact that he cannot deny is happening. Stories like these, of Jews getting tortured to death in Paris, simply for being Jews, most certainly makes it even more of a reality.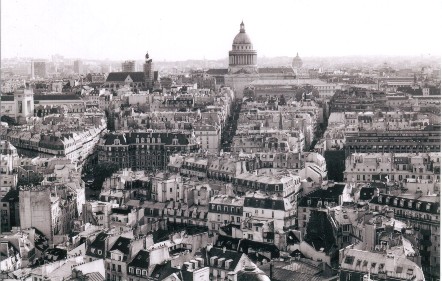 An old photo of the "Latin Quarter", where we stayed in Paris

Posted by Maria at February 24, 2006 03:11 PM | TrackBacks