December 05, 2005
I am somebody, who never gets very (if at all) excited about Christmas. Infact, I always wait anxiously for this holiday to be over.
Here in Iceland, Christmas preparations begin as early as in October or November. This means that early December (aka right now), our society is literally swimming in Christmas, eventhough it's almost 3 weeks away.
I must admit, that eventhough I dislike this holiday to the extent that it practically begins to resemble an allergic reaction, my experience this year has been completely different. The reason is not that I've acquired a sudden love for Christmas, but that I have been seeing all the preparations and customs through the eyes of somebody unfamiliar with the process, somebody seeing it all for the first time, and finding it all to be a spectacular cultural experience, as opposed to something that's simply always been done. I am, of course, referring to my boyfriend, Shlomi, who has always celebrated Jewish holidays in his native Israel. His questions, fascination and interest in what I've always found to be banal, gives me a fresh perspective on things I've always looked upon.
An example of something that really blew Shlomi's mind, was the fact that pretty much every single household in Scandinavia (at least Iceland) puts a so called "advent light" in their window in December. Everybody knows that the custom was taken from Jewish tradition, and the light also goes by the name "Jew light" (Gyðingaljós).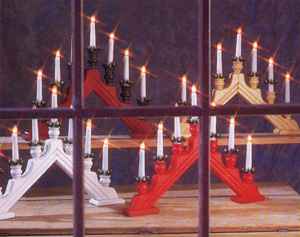 Advent light ("Light of Jews")
The story of the lights arriving to Iceland, is as follows (in a nutshell):
An Icelandic business man called Gunnar Ásgeirsson traveled to Sweden in 1964, where he purchased these lights. They were brandnew in Sweden, and had been based on the idea of the Jewish Hanukkah lights. After Gunnar brought it back to Iceland with it, it became a great success in Iceland, but didn't gain popularity in Sweden until 1980.
The lights have received much attention from foreigners, who have often asked if Judaism is of great importance in Iceland.
Interestingly enough, the article also mentions that the man, Gunnar, comes from the same small fishing village in the West Fjords as my mother, Ingibjorg. For curiosity's sake I looked him up in the "Book of Icelanders" (an online program that enables Icelanders to check how they are related to one another). And what do you know? The man who brought the "lights of the Jews" to this remote piece of ice & fire, was my mother's cousin.

Posted by Maria at 12:23 PM
Permalink
|
Comments (11)
Trackback URL: http://blog2.mu.nu/cgi/trackback.cgi/135517
December 13, 2005
December 14, 2005