May 08, 2005
May 10, 2005
May 11, 2005
May 12, 2005
May 13, 2005
All right, just kill me right NOW!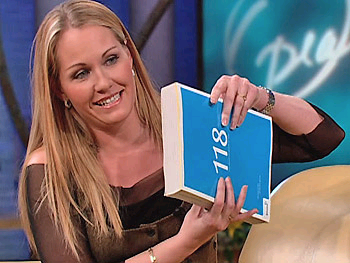 Here she is, the useless bimbo who is systematically dismantling my reputation in the eyes of the world.
Once again I am furious over how Icelandic women have been encouraging this negative image the world has of them as slutty. I mean sure there are promiscuous women here, but they are still a minority. And even if they were a majority, if would be unfair to put us all under the same hat. Icelandic men also love doing their best, and basically just say that "Icelandic women are whores". Normally they don't have anything at all to compare to, since they've never bothered dragging their useless, ignorant Icelandic asses out of Iceland. What also seems to escape their minds is that they base their case on the fact that they "often get laid when going clubbing", without realising the fact that clubs and such events is where people go when looking for sex. I for one can't even remember the last time I went to a club.
Oprah found herself two fake blonds, who both seem to be extremely promiscuous, in order to get her talkshow (which is watched by many worldwide) to head in the exact direction that she wanted.
The first one had something like this to say:
"I don't think sex is that big a deal in Iceland. It's probably just because everyone is having it. So it's not something you have to talk about and be ashamed of. If a girl is starting to have sex [at] about 15 years of age, she isn't looked at as promiscuous and the boys aren't looked at that way either. Icelandic women are very independent—they don't wait for someone to ask them out, they just phone them."
What?? Okay so SHE might be having sex all the time.. It is absolutely unacceptable to just "phone someone for sex". People here are very shy & oppressed, and only flirt while intoxicated. And I don't know anyone in Iceland who started having sex at 15. I know a couple who were 16, but I still consider that to be too young..
And then she says:
"Asking someone out on a date is easy to do in Iceland because there is one phone book for the entire country—home, work and cell phone numbers for just under 300,000 people! "I guess we're a bit liberal about things because we have a much lower threshold for beginning new relationships," Savhildur says.
Okay you don't "look someone up in the phonebook to ask them on a date". You only do it if they gave you their number. I personally have an unlisted number.
"We don't have this kind of a dating thing. You don't have to go on a date number one and two and perhaps on the third date you ask him in. We don't have rules like that."
That's an insane thing to say. People don't kiss on the first date, and they wouldn't have sex for several dates, unless it's a one night stand..
And what does Svanhildur think of American television? "We have a lot of news coming from America in Iceland," Svanhildur says laughing. "And we often have photos of obese people walking down the street—people that are so fat that you couldn't find a single person in Iceland that would be that fat. Anyway, even though you have really obese people, you've also got the rest [who are] really good-looking
Ehrm. Okay after consulting several people I have found out that it is possible that Icelandic people are indeed more attractive than the average. But that's just young people, and most people are still quite normal.
Here is what bimbo number 2 had to say:
We soak outside in our natural hot water—even in the winter," Thorunn says. "It's filled with minerals. It's like having a spa right outside your backyard!"
Right. So she's saying that she drives during the middle of the winter to the countryside to bathe in a hotspring. C'mon.
Iceland is known for its tall, blonde, blue-eyed women, and when it comes to fashion, it's at the top of the world.
There are not so many blond women here, and those who are are usually fake blonds. I'm a brunette, all my best friends are brunettes, so is my sister, my mom… My dad was blond though, but he was from Norway.. The average height for the Icelandic female is 1,67 cm, and Icelandic people are the 3rd fattest nation on earth. So there you have it.
"And we're quite comfortable leaving our children on the sidewalk by themselves while we go in to shop. We also make sure our children sleep outside for at least an hour a day. Even in the winter. The fresh air is very good for them.
Wow, this is actually true! I'm impressed. Yeah I slept outside when I was a baby… I thought it was funny the other day at work when some American tourists forbade their kids to go outside saying "someone might take you". Like that'll ever happen in Iceland…
During the winter months, the sun only shines for a few hours a day in Iceland but during the summer, they have 24 hours of sunlight! Reykjavik has the reputation of being the party capital of the world and the nightlife year round makes it the city that never sleeps. "We don't even start to go out until after midnight and we stay out sometimes until 6 a.m. at least
Winter, sunlight, yes.. But why on earth do these party animals figure that because THEY party, everybody else does?
So I guess that there is only one conclusion: These Icelandic women being interviewed are just not that bright. Oh and I'm gonna think of a cool new nationality…

Posted by Maria at 11:55 AM
Permalink
|
Comments (20)
Trackback URL: http://blog2.mu.nu/cgi/trackback.cgi/80784
May 15, 2005
May 16, 2005
May 19, 2005
May 22, 2005
May 25, 2005
May 29, 2005
May 30, 2005